Atlanta (FX)
Known for his acting, stand-up, and music (as Childish Gambino), Atlanta star and writer/creator Donald Glover takes his signature weird comedic voice to the little screen, but while the show certainly has its funny moments, it's much more melancholy than you might expect from the guy who once played a half of Troy and Abed. The first two episodes make it seem like the story will be told in a linear fashion, but afterwards, the show just jumps all over the place as it follows Glover's character Earn, a father and aspiring music producer struggling to make ends meet for his baby's mother Van and for his cousin Alfred "Paper-Boi," an up-and-coming rapper. Almost every episode gives you a look into what it's like to live as a black person in today's America, boldly dealing with social issues such as police brutality and assimilation. As far as comedy, Paper-Boi's friend Darius is perhaps my favorite character of all of 2016. Stand-out episodes are "B.A.N.," when Paper-Boi goes on TV for an interview, and "Juneteenth," where Van takes Earn to a rich white homeowner's party so that she can network. But really, there's not a single weak episode in the bunch.
Luke Cage (Netflix)
In the same way that if you take out all the superhero elements Jessica Jones is a neo noir about abusive relationships, Luke Cage at its heart is a crime drama about family and community. The image of a bulletproof black superhero in a hoodie makes a powerful statement. Following the events of Jessica Jones, Luke finds himself back in Harlem trying to blend in, but when things escalate between the city and crime leader Cottonmouth, Luke is forced to make his presence known. Like Atlanta, Luke Cage deals with issues concerning blacks, as it asks the question of what it takes to make a real difference in the community for the greater good. Cottonmouth and Pop, who is a barber, ex-gangster, and Luke's mentor, have very different views on what the city needs and how to achieve it. However, the main antagonist of the show pulling the strings may not be who you would initially expect. As with all seasons of Marvel's Netflix shows, Luke Cage is a little weak towards the middle, but fortunately it's able to pick itself up for a satisfying finish. As always, Rosario Dawson as Claire Temple is a welcome presence in this universe.
Better Things (FX)
Co-produced by Louis C.K. and Pamela Adlon, Better Things feels a lot like what you would expect C.K.'s other show Louie to be if it was centered on a single mother instead of a single father. Adlon plays Sam, voice actress and mother to three daughters. Her own mother, who happens to be British, lives across the street. Max juggles her career, love life, friendships, and being a mother and a daughter. While her life is very frenetic, there is a certain calm feeling throughout the show. Unlike Louie, each episode Better Things doesn't tackle a particular topic of interest; rather, it's like a snapshot into Max's life. The episodes all bleed so naturally into each other that it really feels like you're watching someone's real life unfold in all its messiness. Since Max's daughters are all in different schools because of their age, and her own mother is always close by, the show is ultimately about what it's like to be female in all stages of life, through childhood into old age. Max is simultaneously concerned with taking her youngest on playdates and with who her oldest dates, all while the middle one has trouble fitting in at school.
Speechless (ABC)
Speechless is another half-hour comedy about a family. I guess there are a lot of those. What sets this show apart, though, is that at the center of this family is JJ, a teenager with cerebral palsy who can't speak and can barely move. His mother Maya, played by the always lovely Minnie Driver, is a British woman who is tough as nails to get what's best for her family, even if it means constantly moving to different schools. There's also JJ's father, Jimmy, and his brother and sister, Ray and Dylan. Then there's JJ's new aide Kenneth, who is a cool black guy with a smooth voice. Speechless gives us an idea of what it's like to live with a handicapped family member, both in society as a whole and as the smaller family unit. While JJ is a big reason for why this family is the way it is, the show does a good job of making it so that not all of the drama revolves around him. One episode features a side plot where JJ's siblings fight over a newly discovered space behind the wall of their shared bedroom, as each of them desires silence and privacy.
Crazy Ex-Girlfriend (CW)
Created by and starring YouTube-famous Rachel Bloom, Crazy Ex-Girlfriend is a musical comedy about Rebecca Bunch, who abruptly leaves her stable job in New York City to reconnect with her high school fling in West Covina, California. There are three things that make this show so very important. The first is that it brings Rebecca's depression and anxiety front and center. As you can expect, her mental health issues sometimes place her in very awkward situations, so there's a very high cringe factor, in which you're simultaneously dreading and anticipating second-hand embarrassment. What's also important about the show is that the main love interest is Josh Chan, a dreamy, athletic, but kind of dumb Filipino American. We see more of Josh's family leading up to his sister getting married. The last important thing is that it eventually features a relationship between Josh's friend "White Josh" and Rebecca's boss Darryl, a middle-aged single father who recently realized his sexuality is a little more complicated than he'd thought. Unlike Glee, every song on Crazy Ex-Girlfriend is an original piece, and they're usually almost always hilarious. The musical segments are visually lavish and spectacular, and every major character gets a chance to sing.
Lady Dynamite (Netflix)
Like Crazy Ex-Girlfriend, Lady Dynamite is about a woman struggling with mental health issues. These two shows lead the charge in creating narratives that normalize mental illness. Again, much of the comedy comes from cringe-worthy awkward situations. Even with all these similarities, though, the fact that Lady Dynamite is on Netflix gives it more freedom to explore its themes. Stand-up comedian Maria Bamford plays a version of herself in this semi-autobiographical comedy about a comic who tries to put her life back together after a stint at a mental institution. Bamford gives a great performance portraying the wide range of moods of bipolar disorder. Maria, the character, is surrounded by coworkers, friends, and family who show varying levels of support and understanding. Like Better Things, Lady Dynamite has a bunch of cameos by famous people, sometimes playing characters, sometimes playing parodies of themselves. The show takes the flashback-present-flashback structure made famous by shows like LOST and goes even further with it, as each episode has three intertwining timelines: the present, her stay at the hospital, and the past leading up to it. It's like a sandwich of cinematography, with the present and the past-past colorful, while the middle is gray.
Agents of SHIELD (ABC)
Agents of SHIELD started out to have crossovers with the films of Marvel's Cinematic Universe, but since then, it's become something much bigger on its own. When the show delves into its Inhumans storyline, it's kind of like X-Men's mutants in how it deals with themes of xenophobia, alienation, the divisive us-vs.-them mentality. Some humans fear Inhumans because of their powers, while others wish to exploit it. Well, the current season has a little less to do with all of that; however, I decided to include it on this list because of its portrayal of the new Ghost Rider, Robbie Reyes. As you could tell by that last name, Robbie is Hispanic. Agents of SHIELD is admirable because it achieves diversity without really making that the focus of the show: people just happen to be of different ethnicities. What's also great about this Ghost Rider is that it just looks so good for a television show, the VFX are stunning. Agents of SHIELD is able to blow my mind with its surprises while still maintaining a high level of emotional poignancy. While Clark Gregg is a huge draw, the rest of the cast is full of likeable and talented actors.
Supergirl (CW)
The first season of Supergirl is full of feminism, empowering girls to be heroes in ways big or small. Much of that came from Cat Grant, played by Calista Flockhart, who unfortunately had to leave the show (temporarily?) in between its move from CBS to CW (from Los Angeles to Vancouver where all the other DC shows are also shot). In her absence, the show has turned a new leaf, as it began to tackle themes like xenophobia and LGBTQ issues head on. (The feminism didn't go anywhere; the show is just focusing on other things for now.) Taking a page out of Agents of SHIELD, the powers that be in Supergirl wish to have a registry of all the aliens (as in, from outer space) for the city, which obviously causes conflicts between humans and aliens who only want to coexist and live in peace. In the midst of all this, Kara's sister Alex meets a cute female detective she's attracted to and finds out that she might be gay. Alex's arc this season is so important, and it is so rewarding to watch this process as she begins to find herself in ways that she had never considered.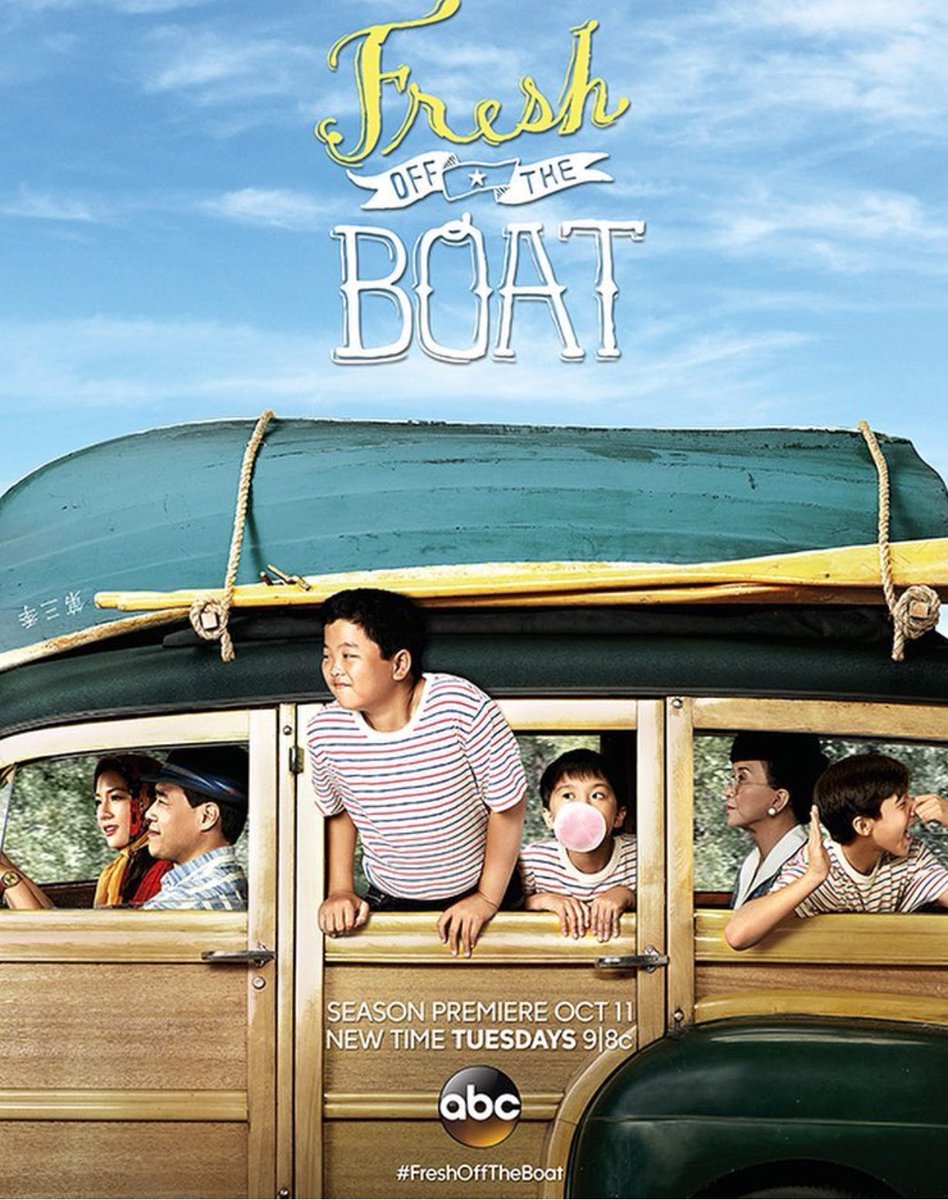 Fresh Off the Boat (ABC)
I don't need to tell you how important this show is to me, but I will anyway: Fresh Off the Boat is the first sitcom about an Asian American family since Margaret Cho's All American Girl back in 1994. The show was initially based on Eddie Huang's memoirs, but since it's reportedly deviated from his story (for better or worse), he's stopped narrating the show after its first season. Of course, the infusion of the nineties hip hop culture he grew up in is still there. Now in its third season (and during an election year, to boot), Fresh Off the Boat is a little bolder in how it approaches its politics: we find that Jessica is actually not a US citizen yet, which brings up a whole discussion about immigration and assimilation. One cool thing about this season is that it brings the show to China for Louis' brother's wedding, so we get a better sense of Louis' upbringing in their home country. As with most sitcoms, this season is plagued with holiday episodes: Halloween, Thanksgiving, and Christmas; however, the show never misses an opportunity to be insightful and informative on Asian American culture, even when it's being festive.
Jane the Virgin (CW)
Like Fresh Off the Boat, Jane the Virgin is about a racialized family, this one being Hispanic. While Better Things strives towards realism, Jane the Virgin isn't afraid to let go of plausibility in favor of going way over the top like the telenovelas that inspire it. Even so, Jane the Virgin never fails to deliver its emotional beats with the utmost precision. In the first season, Jane was accidentally artificially inseminated… you probably know the premise by now. In the third season, Jane is married to Michael (finally–the love triangle with Rafael was getting way old), she's in grad school (for creative writing—like me!), and she's taking care of her baby. As always, religion plays an important role in the show this season, which never alienated me as a viewer, even though I'm nonreligious. I think it's good that there's such a positive portrayal of Christianity. The whole Rafael's-family-is-full-of-criminals storyline is still convoluted as hell, but it's still entertaining to watch all the mystery unfold. And, of course, watching Jane's close relationships with her father, mother, and grandmother is always rewarding. I don't like where they left Petra last season, but I like where she is now.
Honorable Mentions:
While not the best in terms of execution, these shows are commendable for including diversity in general—and LGBTQ characters in particular: Quantico (ABC), Blindspot (NBC), Conviction (ABC), and Timeless (NBC).
Still need to watch:
A lot of obvious ones like Stranger Things (Netflix), Better Call Saul (AMC), The People v. O.J. Simpson: American Crime Story (FX), and Westworld (HBO), just to name a few. But, as you may have guessed, this list is as much about representation as it is about what's good.